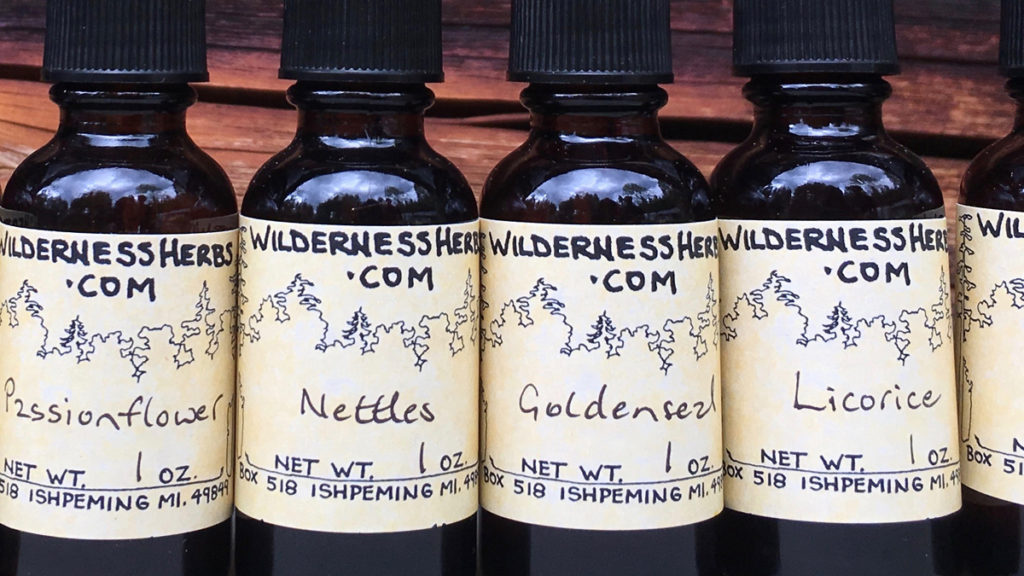 We make our tinctures by infusing plants in organic alcohol for a minimum of 4-6 weeks.
They are a convenient way to use herbal medicines, easily portable and with a long shelf life if stored properly. They can be taken straight from the bottle, or diluted in a little water. For people who are avoiding alcohol, the dose can be steeped in warm water for a few minutes so that the alcohol evaporates. Tinctures refer to single herbs (simples) and tonics are made with combinations of herbs.
These tinctures offer you the opportunity to try them singly or to mix your own tonics.
If you are looking for something that isn't listed, please contact us as we are happy to custom-make a tincture for you, if possible.
Tinctures with an * are made from plants that we gather or grow ourselves. All others are purchased from a reputable supplier and may be wild-crafted or organically cultivated.
Arnica (Arnica montana)
Bearberry

*

(Uva Ursi)
Blackberry

*

(Rubus spp)
Black Cohosh Root (Actaea racemose)
Black Walnut (Juglans nigra)
Bladderwrack (Fucus vesiculosis)
Blue Vervain (Verbena hastate)
Boneset

*

(Eupatorium perfoliatum)
Borage

*

(Borago officinalis)
Burdock Root (Arctium lappa)
Calendula

*

(Calendula officinalis)
Catnip

*

(Nepeta cataria)
Cayenne (Capsicum annuum)
Cedar

*

(Thuja occidentalis)
Chamomile (Matricaria chamomilla)
Comfrey

*

(Symphytum officinalis)
Crampbark

*

(Viburnum opulus)
Dandelion Root (Taraxacum officinalis)
Echinacea Root (E. angustifolia, E. purpurea)
Elecampane Root (Inula helenium)
Evening Primrose

*

(Oenothera biennis)
Feverfew (Tanacetum parthenium)
Garlic

*

(Allium sativum)
Ginger Root (Zingiber officinalis)
Ginkgo (Ginkgo biloba)
Goldenseal Root (Hydrastis canadensis)
Gotu Kola (Centella asiatica)
Gravel Root

*

(Eupatorium maculatum)
Hawthorn

*

(Crataegus Spp)
Horse Chestnut (Aesculus hippocastanum)
Horsetail

*

(Equisetum arvense)
Jewelweed

*

(Impatiens capensis)
Licorice Root (Glycyrrhiza glabra)
Milk Thistle Seed (Silybum marianum)
Motherwort

*

(Leonurus cardiaca)
Mullein

*

(Verbascum thapsus)
Myrrh (Commiphora myrrha)
Nettle

*

(Urtica dioica)
Partridgeberry

*

(Mitchella repens)
Passionflower (Passiflora incarnata)
Peppermint

*

(Mentha piperita)
Prickly Ash bark (Zanthoxylum clava-herculis)
Raspberry

*

(Rubus idaeus)
Red Clover

*

(Trifolium pratense)
Sarsaparilla

*

(Aralia nudicaulis)
Saw Palmetto (Serenoa repens)
Self Heal

*

(Prunella vulgaris)
Skullcap

*

(Scutellaria laterifolia)
Spikenard (Aralia racemosa)
St. Johnswort

*

(Hypericum perfolatum)
Usnea

*

(Usnea spp.)
Valerian (Valeriana officinalis)
Vitex (Vitex agnus-castis)
Wild Yam (Dioscorea villosa)
Willow Bark

*

(Salix alba)
Wintergreen

*

(Gaultheria procumbens)
Wormwood (Artemisia absinthium)
Yarrow

*

(Achillea millefolium)
Yellow Dock Root (Rumex crispus)